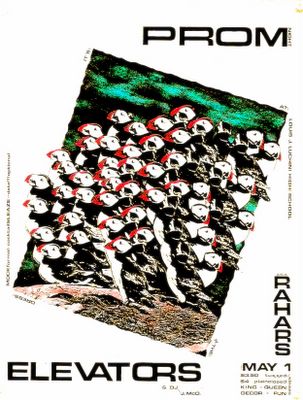 A group of we high school nerds that never attended Prom
Got together and made our own at a local night club.
We dressed our band in 50's vintage tuxs.
I wore a handpainted silk kimono backwards as a gown.
The party was a smashing success.
So much so, that I had to spend the after party
In a cool dark room
Because of sensory overload.

Too much electric koolaid.
The good old days.


That's how I feel today. Though I'm working, there was no KoolAid last night, I just feel like crap.
I'm not sick it's just tension or anxiety (hah!)that I will get over. But right now I'm a prisoner of a two hour fantasy film fest that occured in my head this morning during rem state.
I won't bore you with the imagery because it was all so preposterous and ridiculous it wouldn't make any sense.

Just my subconscious trying to work out the extra details in my life.

Hope you enjoyed my lazy musings from a sleeping blog.

I'll be back tomorrow!